Posted by LazyOne on 16th May 2023
Giving and receiving Christmas cards is a fun holiday tradition. There's nothing like opening the mailbox on a December afternoon to find cheery greetings from family and friends! And although we live in a time when social media keeps us in the day-to-day loop of each other's lives, there's still something magical about receiving a physical card. After all, the giver took the time to look up your address, seal and stamp the envelope, and send a tangible reminder of their affection!
Yes, sending Christmas cards is a lovely thing to do in every way. But the "most wonderful time of the year" can also be just a little stressful! So why not get a head start? With some planning and creativity, it's easy to pull your Christmas cards together well ahead of the holiday season and cross that sometimes-daunting task off your list—before that list is even made! Some of these ideas can easily scale to a Christmas list of hundreds, while others are a great way to keep kids occupied with Christmas activities.
Here are just a few of our favorite Christmas card ideas:
1- Build-Your-Own Snowman: This Christmas card doubles as a super-cool DIY ornament for the receiver! Just get some card stock and send your loved ones a little craft kit. Kids will love building a snowman ornament to hang on the tree!
Print out this downloadable snowman template onto white card stock.
Cut out the card, and fold along the dotted line.
Cut out a window on the front side of the card a little smaller than a snack-sized zip-lock bag.
Have your little kiddos cut out the snowman pieces.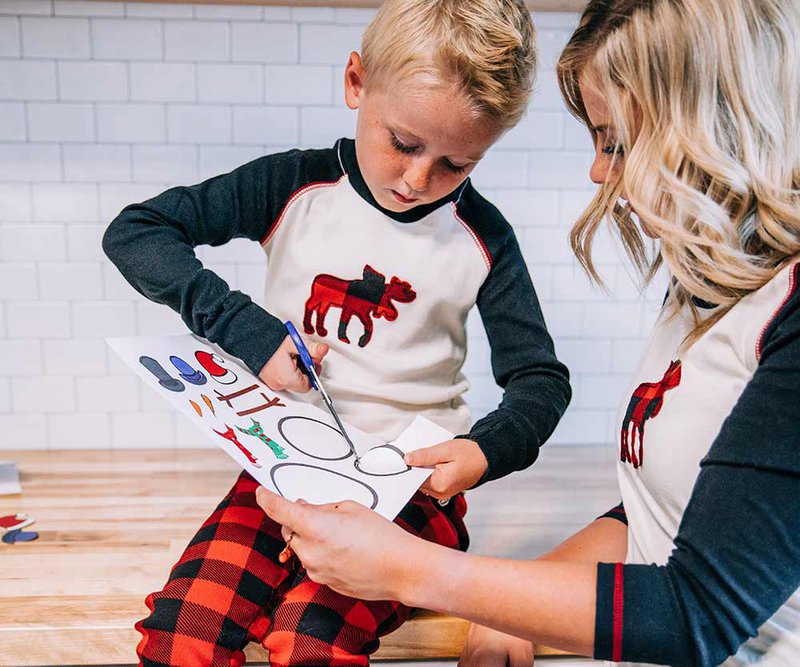 Take a marker and give your snowman some eyes, mouth and buttons.
Place the snowman pieces into the zip-lock bag and tape it behind the window.
Write your personal message into the inside of the card along with an invitation to glue the snowman together to create a fun Christmas ornament.
---
2- Speaking of snowmen, this fun and festive idea changes the whole "face" of Christmas cards! With cardstock and some small family photos, you can easily create a sliding tab that changes the snowman's face to the smiling photos of your family!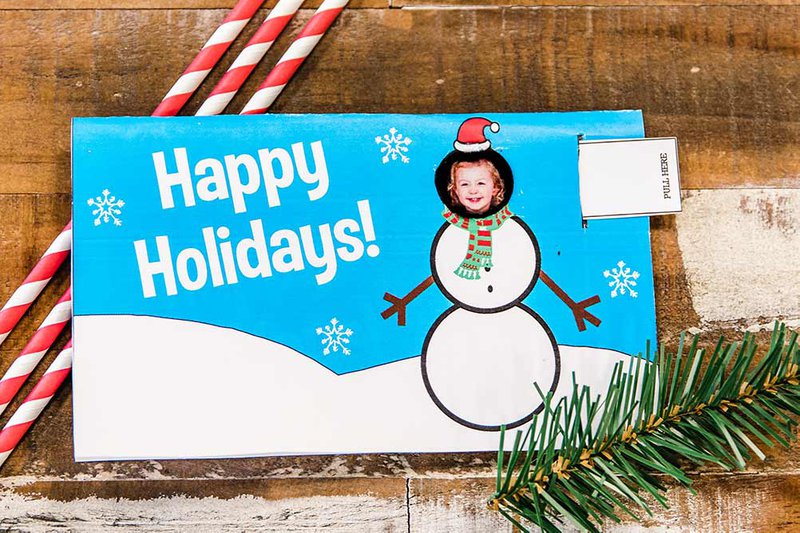 First, download the pdf templates for this card and print the 8.5 x 11 card onto cardstock.
Print copies of your family's faces around 1 inch tall (use a photo editor if you need to resize your pictures).
Print the picture strip template onto cardstock. Then tape your family's pictures to the strip making sure you line up their eyes.
Using a craft knife, cut a slit along the mark to the right of the snowman and cut out the circle in the snowman's face.
Turn the card over and tape a 2 1/2 x 1/2 inch strip of cardstock to the inside of the card, lined up with the slit to act as a guide for the image strip.
Slip the image strip face down under the guiding strip and through the slit.
Add a holiday greeting.
---
3- Family News Cards: A hand-drawn card is a uniquely personal way to keep in touch, and don't worry, great artistic skills aren't necessary! Sketch or trace a simple scene with basic shapes or download our templates and use those!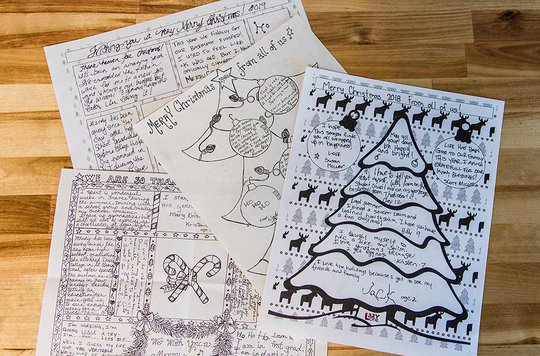 Have each family member write a little note within the open spaces. This is a great card for a large list because at this point, all you have to do is make as many copies as you need and each recipient will get a personalized message from your family! Have fun with this and remember to add your own flair!
---
4- Use a Template: Thanks to a wide variety of online templates (and we've even included a template here), Christmas cards have never been easier. Simply choose a style you like and after downloading the template onto your computer, open it up in a program like photoshop. Then upload your photos, and add a quick greeting! Just a few clicks and your cards will soon be ready to print. You can even send the file to printers to get them printed on nice paper.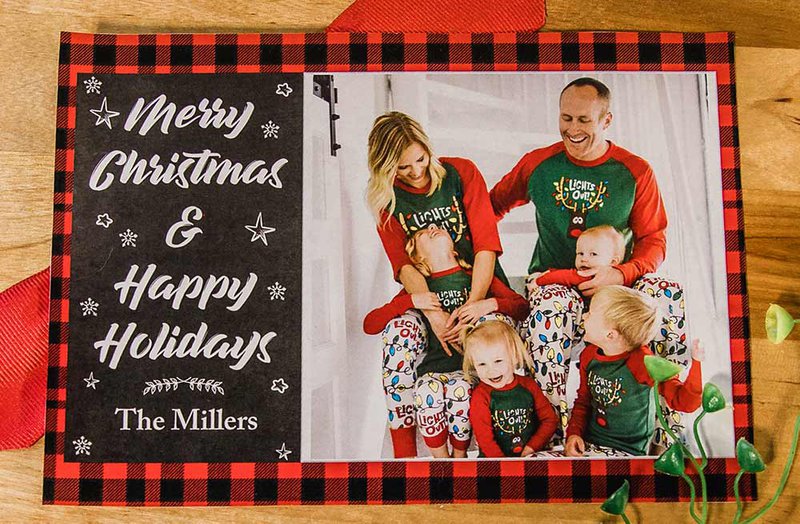 ---
5- Family Christmas Pajamas: Okay, Okay, you could just do a normal family picture, and there is nothing wrong with that (other than being a bit boring). But why not add a bit of fun to your family pictures with fun Family Christmas Pajamas? Make a warm and fuzzy Christmas statement with a set of matching family pajamas (right down to the dog!) in cozy, coordinating styles. LazyOne has a wide variety of Family Christmas Pajamas to choose from!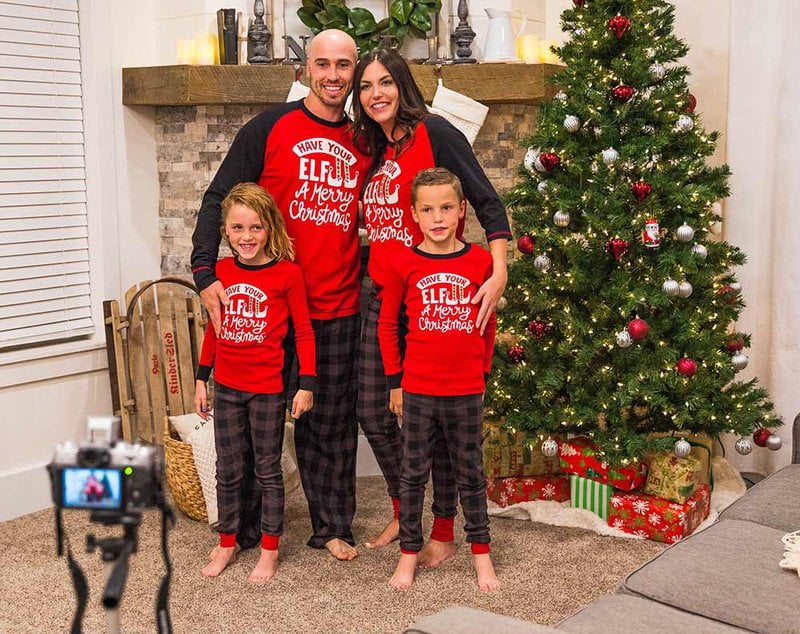 ---
Hopefully, these suggestions will inspire your own ideas! Remember, you're not just building cards; you're building memories. We encourage you to have fun with the entire Christmas card process this year, from the initial concept and the card's creation to the family assembly line of stuffing, sealing, and stamping. Merry Christmas from Lazy One!