Posted by LazyOne on 25th May 2023
Have you tried fans and AC blowing full blast to chilly temps and still find yourself to be a hot sleeper? If you sleep hot, wake up sweaty, and you're left exhausted by interrupted sleep adjusting the covers throughout the night, you're not alone!

Struggling with night sweats is no fun for anyone. Several scientific studies have revealed strong evidence that night sweating is a common complaint, with up to 41% of people reporting they've recently experienced them. We are here to help! We are happy to recommend the pajamas we think work best for hot sleepers.
SHORT SLEEVE REGULAR FIT PAJAMAS FOR HOT SLEEPERS
For those who love the comfort of loose fabric, a pair of short-sleeved, regular-fit pajamas might suit your hot sleeping habits best.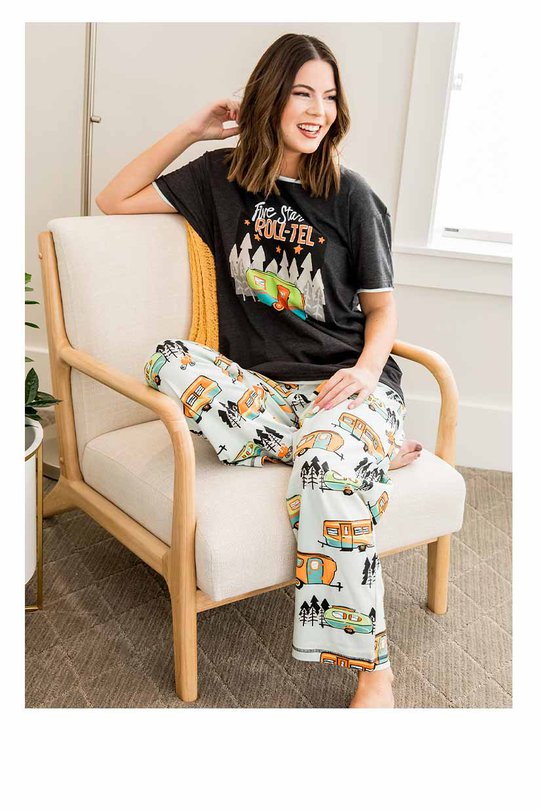 With only shoulders covered, there's plenty of room for air to flow freely around the upper body, and without the tight fit, you have less body heat trapped against your skin.
STAY COOL IN TANKS AND SHORTS
If a short sleeve still feels like too much coverage when you're a hot sleeper, a tank and shorts PJ set might be ideal.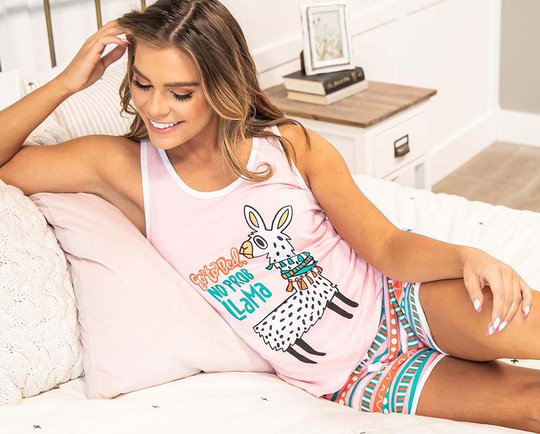 Tanks and shorts pajama sets leave arms and legs bare, meaning fewer layers and less trapped heat. With less body heat contained, you will feel at least several degrees cooler than if you tried to sleep in a long-sleeved pajama pants set.
NIGHTSHIRTS FOR WOMEN
Overwhelmingly, women tend to be hot sleepers more often than men. A lightweight, super-soft, V-neck nightshirt with a beautiful drapey look might help you fight off the heat.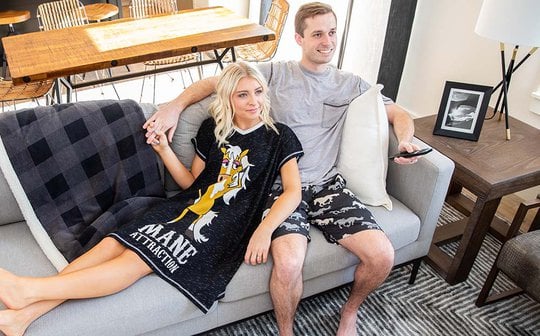 Nightshirts are also exceptionally versatile, allowing you to go from bedtime to lounging and relaxing if you're looking for maximum comfort and extra airflow during the day too!
Additionally, if you're a man experiencing night sweats, light boxer briefs with sleeveless or short-sleeved top or no top might be the perfect combination for reducing nighttime sweats.
WHAT FABRIC IS BEST IF YOU'RE A HOT SLEEPER?
Check your fabric tags. You may want to double-check the tag on your pajamas to see what material they are made with. Some fabrics should be avoided if you sleep hot as they'll only make you feel warmer or restrict air flow. Consider the following and note these common fabrics to avoid:
100% Polyester - sometimes, polyester fabric, when blended with other materials, can be breathable. However, because these fibers are solid plastic, polyester pajamas won't allow air or moisture to flow through them. The lack of or minimal airflow makes polyester pajamas and some polyblend PJs feel hot and sticky at night.
100% Nylon - by itself this fabric is not breathable either. A blend of nylon with a breathable fabric might be acceptable by staying away from pure nylon pajamas as they trap heat and sweat right next to your body.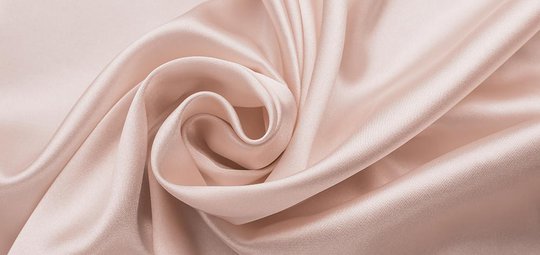 Acrylic fabrics - these are primarily used to make sweaters, tracksuits, and linings in fuzzy boots and gloves, but you can also find lighter clothing made from it. Acrylic is excellent for heat-retention, which is the opposite of what you want if you're a hot sleeper!
So, what fabric is best for both comfort and breathability? Cotton! You'll want either 100% cotton or combed cotton. If the cotton pajamas use other materials, ensure the other material is a meager percentage, so it does not interfere with cotton's airflow and moisture wicking ability.
You'll find that we've put a lot of thought into ensuring we create sleepwear that works for everyone. This includes those who frequently sleep hot and those who, perhaps less frequently, experience night sweats. So, which pajamas are best for hot sleepers? Lazy One pajamas, of course! If you're interested in browsing our selection of PJs made for you, check out our Spring and Summer Collection.