Posted by LazyOne on 30th May 2023
How many times have you heard the dreaded cry: "Mooom! Daaad! I'm bored!" Have you lost count of how many times you've heard it this week? Whether you're stuck inside the house due to the weather or simply trying to come up with something to do with the family on the weekends—we have some ideas!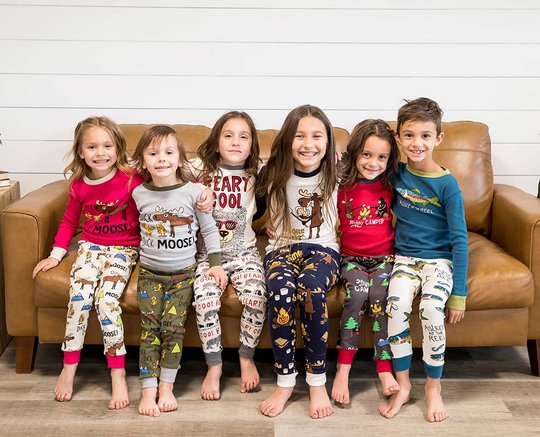 Family activities and games are an excellent chance to bond and connect with your loved ones. After a long day of taking care of the kids, work, chores, and all the other things that life throws our way, you might find it challenging to spend time trying to come up with entertainment for everyone. Hopefully, our top ten family-friendly boredom busters will delight and entertain the entire family!
1- CARDS
It's a traditional go-to for entertainment that's been used for decades, and today, there are multiple family-friendly card games to play that will get the whole family involved. You can play games like Spades, Spoons, Egyptian War, Crazy Eights, Go Fish, Memory, and Slapjack with just a deck of cards if you have them. But there are also some fantastic and hilarious other card games to consider:
Uno
Exploding Kittens
Unstable Unicorns
Sushi Go!
Apples to Apples
Taco vs. Burrito (designed and created by a 7 year old!)
Kids Against Maturity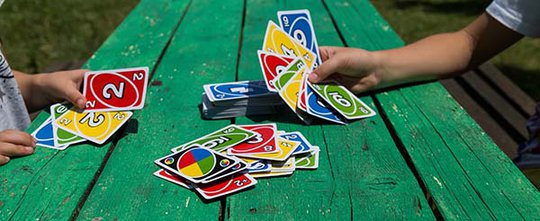 Many easy-to-play, kid and adult-friendly card games are available to add to your stuck-at-home boredom busters!
2- BOARD GAMES
Kid-friendly board games can often educate and engage our kids and allow them to have so much fun—and they might surprise us as adults, too, teaching us things we may not have known or forgotten! Board games have been another tried-and-true way of battling at-home boredom while also teaching interpersonal skills. Here are some games to add to your boredom buster list:
Catan: Family Edition
Zingo!
Ice Cool 2
Rhino Hero Super Battle
Ticket to Ride
Candyland
Sorry!
3- BACKYARD CAMPING
If you have a backyard, you have a place to camp! The best thing about backyard camping is experiencing all the fun stuff, like fresh air, making s'mores, and cooking over the fire (or barbeque) with the conveniences of home only a few steps away. When you camp in your backyard, there's no need to worry about packing a cooler and having ice on hand. You can also avoid the hassle of a long walk or even a car ride to visit the showers or bathrooms—instead you can just head inside!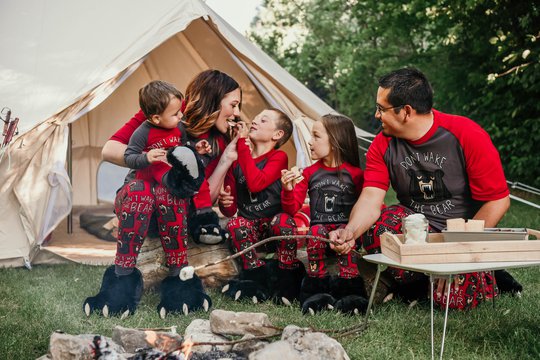 Nighttime is perfect for camping-themed pajamas, glow sticks, bracelets, necklaces, or flashlight tag. If you live in an area with fireflies, try catching a few and learning about lightning bugs. Create a backyard scavenger hunt, break out the lawn games, star gaze, or use a projector to screen a backyard movie. There are lots of activities that make a backyard camping trip memorable and entertaining for the whole family!
4- FAMILY FASHION SHOW
It might sound like a lot to organize, but you can easily plan a kids' fashion show to keep your little ones… and you… amused and engaged.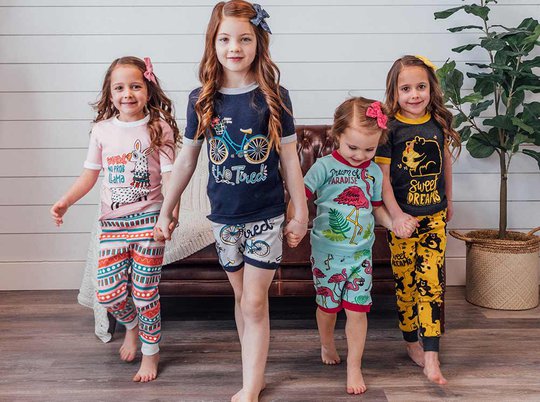 Have them drag out their dress-up clothes or costumes—or drag out your clothes, shoes, scarves, and hats. Let your kids go to town and walk the 'runway,' grab a camera and snap away! Not only will it be a great time, but you'll also be able to make an album full of photo memories.
5- RAINY DAY PUDDLE SPLASH
Why not play in the rain if you're feeling stuck inside on a gently stormy day?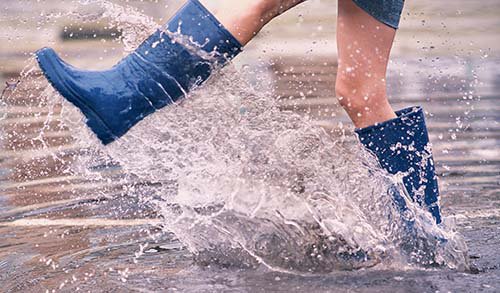 Get the family to put on their favorite galoshes, rain hats, or jackets and frolic in the puddles.
6- HEAD OUTSIDE
Sometimes you don't need to do anything elaborate to beat the boredom blues. You can engage your kids with many easy-to-play outdoor games or let them run around the back or front yard to burn off some of that extra energy without the risk of germs from public places! If it's warm enough, you can add water games, and if you have a pool, there are many fun pool activities and games to try.
7- HANDS-ON CREATIVITY DAY
Set out their favorite coloring books and coloring tools. There are so many affordable kids' and adults' coloring books out there and they can be fun to do while watching a favorite movie, show, or listening to a kid-friendly podcast.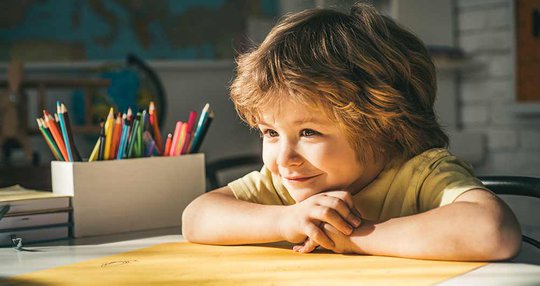 You can also have some hands-on fun with interactive sensory bins or a simple, kid-friendly craft. Create a keepsake and make a new family memory at the same time! Have a couple options or ideas to get started and see where their imagination takes them.
8- MOVEMENT GAMES
Turn on a fun dance, music, or movement exercise!
There are lots of them available on streaming platforms for free or:
Play hide and seek
Build a blanket or pillow fort with objects around the house
Have the kids put on a play or act out a skit
Learn clapping and rhythm games
9- GO ON A VIRTUAL TOUR
That's right! Staying home doesn't mean you can't visit your favorite field trip areas, museums, and galleries. Many of these places now have fun and interactive online virtual options to explore without leaving the comfort of your home.
10- EASY AND FUN SCIENCE
Blend fun and education by doing fun science experiments at home. Some examples of easy science experiments that make great boredom busters:
Make a volcano from modeling clay, add baking soda, and watch it erupt with vinegar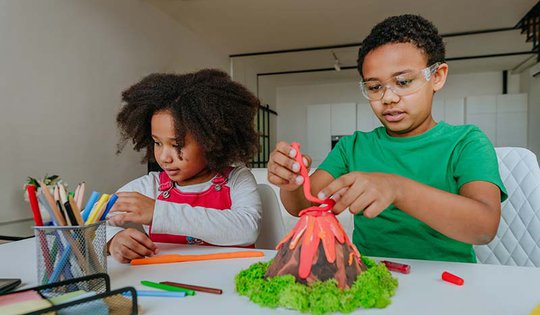 Turn a bar of soap into foam by placing it in the microwave
Repel glitter on water with a drop of dish soap
Build crates or cases and conduct an egg drop